BFI Film Academy - Sound Lecturer
The BFI Film Academy offers a real chance for talented 16-19-year-olds to be part of our future film industry.
It was a great privilige to asked to be a part of delivering this course as a sound practitioner.
Kingdom ITV1 - Production Sound Mixer
ITV drama for Sunday evenings starring Stephen Fry, screened in early 2007. Starred Stephen Fry as Peter Kingdom, a Norfolk solicitor who is coping with family, colleagues, and the strange locals who come to him for legal assistance. The first series was aired in 2007 and averaged six million viewers per week.
Summer 2006
Cromer Pier Show - Associate Sound Design
The celebrated only end of the pier show in the world! The pavilion theatre is now the only theatre at the end of a pier that produces it's own show every summer and Christmas. It provides an eclectic blend of great pop music, breath taking West End ballads, speciality acts and humour from top comedians.
The Theatre has around 500 seats making for an intimate experience which draws on quality acts to provide a memorable and heart warming experience.
2016/18
Thursford Christmas Spectacular - Head of Sound
A cast of 120 performers, over 80 shows throughout November and December playing to in excess of 150,000 people the Thursford Christmas Spectacular truly is a phenomenon. Over 140 sound sources including strings, woodwind, brass, solo singers, a 40 strong choir, and an original Wurlitzer cinema organ saved from the Leeds Odeon! In addition to this, 64 channels of Shure UHF-R radio mics to cope with the highly dynamic staging. All mixed via a Yamaha PM5D expanded with two DSP5Ds to cope with the number of channels required for this extraordinary production.
1993-2015
The Television Business
Soound Recordist/ Sound Supervisor
2015-Present
I continue to support TVB and their clients across a range of projects for many well known brands including ZUMBA and Creative Expressions.
This involoves a range of audio related roles including supervising their output for R128 compliance.
BBC - Countryfile
BBC 1
Sound Recordist
1999-onwards
Rural affairs magazine programme for BBC 1 which I have worked on over the years, but never with John sadly; hope to one day though!
Wellington Presbyterian Church, Ballymena
Sound Consultant
2017 - Present
Acoustic Consultant Peter Mapp invited me to join him in 2017 as we investigated the sound issues that this impressive new build church was having. It has been my pleasure to support this community as we continue to improve the sound installation throughout the building.
Cambridge Assessment
Sound Recordist/Video Producer & Editor/Camera Operator
2006 - Present
Cambridge Assessment is a part of Cambridge University and are global leaders in examinations and assessment. I have supported them over many years in a range of roles across the group from location sound recording to video and podcast production.
Time Team C4 - Sound Recordist
One of the programmes I always wanted to work on, I've been fortunate enough to have a chance to work with the team on a couple of special editions of the popular archaeology programme the first about a Saxon ship burial in Essex, the other a feature on Boudicea. OK so we weren't up to our necks in mud on either of these but it was great to meet and work with Tony Robinson and Mick Aston who being accustomed to having Steve Shearn and Steve Bowden on sound were amused to meet another 'Steve' on sound!
2004 / 2010
Cambridge University Press
Video Producer/Editor
2018
Production of key video resources in support of new materials for this world famous publishing house.
Clarity Learning
2010-Present
Sound Recordist / Associate Video Producer
Clarity Learning is an experienced communications consultancy that works exclusively within education. I support Clarity Learning in a range of roles from Sound engineering to video editing and production.
BBC - Gardeners' World
BBC 1
Sound Recordist
I've worked on this perennial BBC2 gardening programme sporadically over the past few years usually when they are visiting the east of England.
Hidden Paintings of the East BBC2 - Sound Recordist
Meera Syal searches for the hidden paintings which reveal the extraordinary story of a Norfolk Prince. At the heart of the film is the story of Frederick Duleep Singh, son of the Last Maharaja of the Punjab. Despite being disinherited by the British Establishment, he spent his life trying to become one of them. The story unfolds through an extraordinary collection of paintings that he bought - bargain hunt style - from the landed gentry, and then donated to the nation.
Wavelength Films Summer 2011
Epic Dream Productions
2010 - Present
Sound Recordist / Associate Producer
Neill Phillips is a close associate and we work together across a range of projects for diverse clients. His skils as a Director of photography complimenting my sound and production background.
Countrywise Kitchen ITV1 - Sound Rescordist
Countryside, cooking, what's not to like about a job like this! well there was getting attacked by those honey bees in Yorkshire, but aside from that a wonderful spring and summer spent in good company. The viewing figures were good as well!
Summer 2011
Blood on His Hands - Sound Mixer/Designer
In a historic trial, James Taylor must choose whether his brother's murderer is sentenced to death or spend the rest of his life in prison. It was a great privilege to be asked by Justin Coleman to work on the sound design for his award winning film. I took responsibility for both location sound and post production working closely with Justin to create the finished product.
Wavelength Films 2007
Alice in Wonderland Sky Arts - Sound Supervisor
The famous Chicken Shed Theatre Company's work with children of all abilities was exemplified by this production which was recorded for Sky Television and broadcast on their Artsworld channel. A DVD is also to be released shortly. From the Sound Supervisors point of view it required liaison with the in house sound department and organisation of my own crew to provide splits and feeds of the house band and vocal mixes to supplement my own mic plot. In all it was quite a challenge in the short space of time available.
2006
Top Gear BBC - Sound Recordist
The motoring magazine programme for BBC2 which has become a global brand. There is really not much more I can say but driving around the lotus test track with James May and Vicky Butler-Henderson was quite an experience. Who was fastest? I'm sworn to secrecy!
BBC - Question Time
BBC 1
Sound Assistant
I've occasionally one of the 'men in black' wielding a boom over the audience. Sir David is always a real pleasure to work with, interested in the crew during rehearsals and appreciative of them afterwards.
ITV - Trisha
ITV 1
Grams Op / Sound Assistant
1999-2008
Daytime T.V. chatshow. I think I get asked about this show more than any other, usually it's something along the lines of "Where do they find the people from?"
Sadly no longer made in Norwich but happy memories of a wonderful crew, and learning so much from senior crew, particularly Head of Sound Peter Watts.
Channel 4 - Grand Designs
Channel 4
Sound Recordist
May 2002
My part in the cultural phenomenon that is Grand Designs and Kevin McCloud. A rather lovely clap board house in Suffolk with some very green water management features.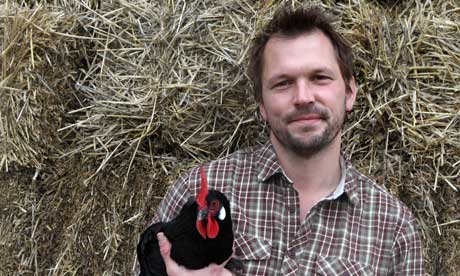 BBC Jimmy's Farm
BBC 2
Sound Recordist
March 2004
I very memorable time on the first series of this hugely popular programmme. At the time we didn't really have any sense of the impact it was having, as is so often the case.
Little did I know that it would soon be me holding the chicken!
Grym's Dyke Opera Company - Producer - Roger Ordish
Sound Supervisor
2004
A multi camera shoot for the production of a commercial DVD, shoot at the former home of
Gilbert himself. The performance featured some wonderful singers many of whom were
from the D'Oyly Carte Opera Co.
It was a pleasure to work with the great Roger Ordish, who produced more prime time TV than anyone else I know.
ITV Anglia / Sky Discovery - Away With Words
Sound Recordist
June - Sept 1998
A thirteen part series presented by Neil Innes, taking a look at the origin of every day words and phrases.
ITV - An Audience With Diana Ross
Sound Assistant
June - Sept 1998
A musical TV special including questions from a celebrity audience as well as live musical numbers from the star.
BBC - Home Front
Sound Recordist
Feb - June 1998
Home and interior design series for BBC 2, plus a fifty minute 'special' on the Norfolk barn conversion we followed throughout the series.
ITV Anglia - Soccer Night
Sound Supervisor
Feb - May 2006
A studio based regional soccer programme hosted by Kevin Piper and Alan Brazil with different guests each week commenting on the progress of the Anglia regions football teams, including highlights packages of all the games and other VT inserts, 'FanCam' special reports etc.